Concealed Carry Weapon Endorsement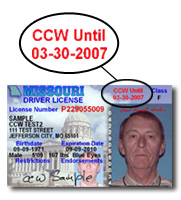 Applicants are directed by law to come to the Department of Revenue to apply for a license with the Concealed Carry Weapon (CCW) endorsement within seven days after receiving their Concealed Carry Certificate of Qualification.
The Department of Revenue began issuing driver and nondriver licenses with the CCW endorsement to qualified applicants on July 1, 2004.
A qualified applicant:
Must be:

At least 21 years of age; or
At least 18 years of age and a member of (or honorably discharged from) the United States armed forces;

Must be a United States citizen;
Must be a Missouri resident (or a U.S. military member/spouse stationed in Missouri);
Must be eligible for a Missouri driver or Nondriver license;
Must have a valid Concealed Carry Certificate of Qualification; and
Must have their Concealed Carry Certificate of Qualification information accurately entered into the Missouri Uniform Law Enforcement System (MULES) database.
Applications for a CCW Certificate of Qualification are available through Missouri sheriffs or sheriff's designees. Once the sheriff or sheriff's designee issues the Concealed Carry Certificate of Qualification, the certificate information will be transmitted electronically to the Department through MULES. Applicants for a CCW endorsement whose information has not been accurately entered into MULES will be asked to return to the sheriff or sheriff's designee that issued the Certificate of Qualification in order to correct the inaccuracies.
The CCW endorsement will show "CCW Until MM-DD-YY" and will be placed on the license in red above the picture. The date will indicate the CCW endorsement expiration date, which is three years from the Concealed Carry Certificate of Qualification issuance date as recorded in MULES.
When you apply for a license with a CCW endorsement, you are charged only the standard fees to produce the driver or nondriver license. The CCW endorsement does not have an additional cost. The most common driver license type is $20.00. Effective August 29, 2011 a nondriver license issued with a CCW endorsement will cost $5.50 ($3.00 transaction fee and $2.50 processing fee) and will be issued for a three-year term equal to the expiration date of the CCW endorsement.
Information regarding CCW endorsements is stored on the Missouri Driver License system with restricted access privileges. Specific information is disclosed only to law enforcement and is not printed on driving records.
A CCW endorsement can be suspended or revoked for various offenses. If the CCW endorsement is suspended or revoked, the Department must send a notice of the suspension or revocation to the CCW endorsement holder.

---
Still need help? You can also submit your driver licensing questions to our staff by e-mail. Your e-mail will be forwarded to the appropriate area for reply. Some inquiries can be responded to more quickly than others depending on the issue and amount of time needed for research. Please make sure your computer will accept our e-mail response.