About Missouri License Plates
Additional Plates Available:
Missouri Standard and Special License Plates
Missourians can choose from a variety of license plate designs. Many of them may be personalized with the "number" of your choice. Some special provisions may apply and an additional contribution to the sponsoring organization may be required. Special provisions are listed under each license plate type. If you have questions about applying for any of these license plates, you may contact the sponsoring organization or Motor Vehicle Bureau at mvbmail@dor.mo.gov.
Click here to view plate designs and try out your personal "number".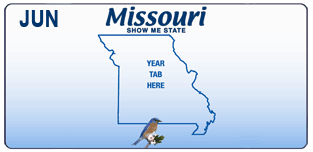 ---
Personalizing Your License Plate
License plates may be personalized. Regular personalized license plates with no emblem or wheelchair symbol may have up to six letters including one space, dash, or apostrophe.
There is an additional annual fee of $15.00 added to the annual registration fee for having your license plate personalized.
Personalized license plates will be changed to the new plate design beginning January 1, 2009.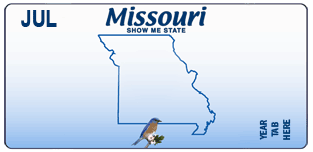 ---
Year Tab on Your License Plate

Put the Brakes on Tab Theft - Make your new license plate stickers more theft-proof.
---
About the Missouri License Plate
In 1995, a License Plate Advisory Committee was established to develop uniform designs and common colors for Missouri license plates and to have input by Missouri citizens. The license plates that were unveiled on April 1, 1996 were a result of this public process.
In 2004, the General Assembly passed another law requiring license plate redesign. Senate Bill 1233 authorized the License Plate Advisory Committee to again develop designs for a new Missouri license plate. The committee selected designs that would increase visibility of the plate and reduce the likelihood of tab theft.
In February 2007 the Missouri Department of Revenue (Department) began holding public meetings throughout the state to obtain feedback on possible plate designs. These public meetings resulted in three plate designs emerging as finalists for the new license.
After the public meetings and more than a quarter of a million online votes were cast, by a margin of nearly 3-1 voters gave the thumbs-up to the license plate featuring the state bird and state flower as Missouri's new standard plate. This new plate will assist law enforcement statewide by reducing tab theft and improving plate visibility.
Missouri's license plates are made of aluminum and are manufactured by the Missouri Department of Corrections at the Jefferson City Correctional Center. Standard license plates are embossed (raised lettering), while personalized license plates are made by a computer graphics process that produces a flat license plate. This process allows the Department to produce very detailed specialty license plates, which may or may not be personalized, that commemorate a particular organization, activity, or charity. You may view the various specialty license plates by clicking here.
---
Temporary License Plate (for motor vehicle with an obscured rear license plate)
If a rear Missouri license plate is obstructed from view by a bicycle rack, luggage rack, or other similar device, the vehicle owner has the option to obtain a Temporary License Plate. This "third license plate" is a paper document that is to be placed on the interior of the vehicle's rear window in a manner that is clearly visible from the outside of the vehicle but does not obstruct the driver's view out of the rear window.
In order to obtain a Temporary License Plate, the vehicle owner must submit the following items to our central office:
Applicants should mail the completed form and fee to the address listed on the application form.