Put the Brakes on Tab Theft
Make your new license plate tabs more theft-proof. Put them in the middle!
The Missouri Department of Revenue (department) recommends that you place your license plate tabs in the MIDDLE of your license plates to help prevent tab theft.
Below is helpful tab placement information for renewed plates and new plates, as well as instructions to replace stolen tabs.
Several years ago, the department changed the placement of license plate year tabs, moving them from the lower right-hand corner to the center of the license plate (for regular license plates only, not personalized or specialty plates) as an effort to help reduce tab theft. The standard license plate also now features an indention in the middle of the plate to reduce the risk of tab theft.
The middle tab placement applies to all license plate types EXCEPT:
Specialty plates (such as Children's Trust Fund, civic group, or collegiate)
Personalized plates
Motorcycle plate
In early 2007 by internet vote, Missourians selected a new license plate design that will go much further in reducing tab theft and improving enforcement of the state's motor vehicle laws. The new design, which features a blue bird (Missouri's state bird) sitting on a Hawthorn branch (Missouri's state flower), will improve the plate's visibility to law enforcement and ensure collection of state and local sales taxes and local property taxes. The Missouri State Highway Patrol aided the advisory committee to help ensure that the new plate would be easy to read for law enforcement and would provide features to reduce tab theft.
---
Renewal License Plate Tabs
Customers who are renewing their plates will simply place the year tab in the middle.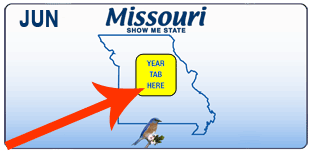 CAUTION: If you have current tabs on the corners of your license plates, DO NOT attempt to remove them in order to place them in the middle. THEY WILL DISINTEGRATE and you will have to pay a replacement fee to obtain new ones.
---
New License Plate Tabs
New Passenger/RV, Truck, Motorcycle, and Disabled license plates issued after June 16, 2008, will have only the year tabs in the middle. This will be done for you by the clerk when receiving your new plates. (See diagram)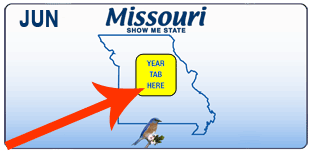 ---
How to Replace Stolen Plates and Tabs
If you are the victim of tab theft, you may receive up to TWO sets of replacement plates or tabs per year AT NO COST when your application and notarized affidavit are accompanied by a corresponding police report verifying that such license plates or tabs were stolen. A $3.50 processing fee will apply.
To replace your license plates or tabs, or both:
Complete, sign, and have notarized an Application for Replacement Plates/Tabs (Form 1576). You must indicate on the form the reason for the replacement; and
Submit the appropriate fee:

Replacement License Plates - $17 (per set) replacement plate fee, plus a $3.50 processing fee.
Replacement Tabs only - $8.50 replacement tab fee, plus a 3.50 processing fee.

Note: If you submit a corresponding police report, all fees except the $3.50 processing fee will be waived.
This transaction can be processed at any Missouri license office, or you may submit your application paperwork and fee, by mail, to:
MISSOURI DEPARTMENT OF REVENUE
MOTOR VEHICLE BUREAU
PO BOX 100
JEFFERSON CITY MO 65105-0100