Tax Assistance Offices

Have you considered online assistance?
Business Tax Assistance:


Business Tax customers are encouraged to use the MyTaxMissouri portal at https://mytax.mo.gov
for a self-service experience. The service allows you
to register a portal account to file and track returns
and payments for:
Sales Tax;
Use Tax;
Employer Withholding Tax; and
Tire and Lead-Acid Battery Fee

Tax Assistance Offices are currently available in 6 locations throughout the state.
As services vary by office location, it is recommended that you review the services offered before visiting an office. A list of services can be found near the bottom of this page. For more information, you may also email taxassistance@dor.mo.gov or call us at (573) 751-7200.
Assistance with individual income tax preparation may be available from a volunteer program in your area.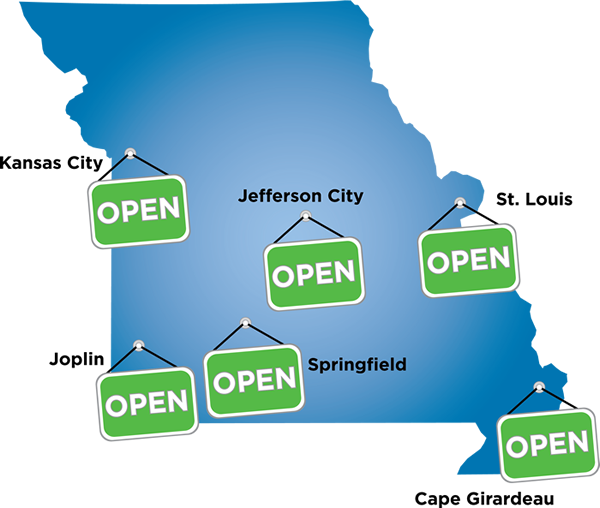 Jefferson City
Harry S Truman State Office Building
301 W. High St., Room 330
Jefferson City, MO 65101
Availability: 8:00 a.m. - 4:45 p.m.

Tax assistance offices are closed on state holidays.
Driving directions to tax assistance office

Individual income tax preparation services are not available at this location.
The following onsite services are available at the Jefferson City assistance office:
Tax Clearance or No Tax Due Assistance
Business Tax Registration Assistance
Sales Tax Exemption Assistance
Income Tax Compliance Assistance (customers who have received a federal audit or professional license notice)
Corporate Income Tax Assistance
Lien/Garnishment Resolution
Revocation Resolution
Income Tax Billing or Notice of Adjustments Resolution
Sales Tax Billings or Sales Tax Refunds Resolution
Withholding Tax Billings and Withholding Tax Refunds Resolution
Verification of Online Payments or Cancellation of Online Payments
Motor Fuel Resolution
Excise Tax Resolution
Installment Agreements
---
Individual income tax preparation services are not available at the Cape Girardeau, Joplin, Kansas City, Springfield and St. Louis locations.
The following onsite services are available at the Cape Girardeau, Joplin, Kansas City, Springfield and St. Louis assistance offices:
No Tax Due Assistance
Business Tax Registration Assistance
Business Tax Registration Updates
Accepting Payments
Accepting Completed Returns
The following services are available by phone assistance from an employee in Jefferson City:
Tax Clearance
Sales Tax Exemption Assistance
Income Tax Compliance Assistance (customers who have received a federal audit or professional license notice)
Corporate Income Tax Assistance
Lien/Garnishment Resolution
Revocation Resolution
Income Tax Billing or Notice of Adjustments Resolution
Sales Tax Billings or Sales Tax Refunds Resolution
Withholding Tax Billings and Withholding Tax Refunds Resolution
Verification of Online Payments or Cancellation of Online Payments
Motor Fuel Resolution
Excise Tax Resolution
Installment Agreements